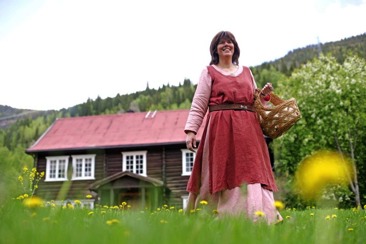 Sevletunet is a warm and welcoming B&B where you will easily feel at home!
This is an opportunity to stay in one of our 17th and 18th century traditional Norwegian farm buildings. On the outside, the buildings have the rustic charm of a "bygdetun" (a collection of timber farm buildings), while the interior offers all the comforts of a modern hotel. The combination of charm and hospitality in this historic setting will make this the highlight of your trip to Numedal.
On quiet summer evenings you can relax and converse with other guests by an outdoor fire ... sharing the magic of a Numedal night.
In the daytime, the large lawns and surrounding fields at Sevletunet are perfect areas for children to play and explore. There are great local fishing areas in the pond, river or fiord. A canoe and boat are available for guests, on the adjacent fiord and there is swimming as well.
The rooms and cabins are furnished in a traditional style combined with modern facilities. There are several sitting rooms, a barbeque area and a sauna available for guests.
For those who prefer a more secluded and simple setting, there is a charming "back-to-nature" cabin by the river. In the mountains, we offer a large cabin in a beautiful natural setting with fishing lakes. For your accommodation, you can choose self-catering or Bed & Breakfast.
There is a wide range of activities available in the area. We will be happy to create a program tailored to your needs. For example: you can bicycle or hike in lovely pristine nature areas; take a Draisine (special bicycle that runs on train tracks) trip along the old railway; gather wild cloudberries (a Norwegian delicacy) in the mountains; a trip to Langedrag Nature Park featuring wolves and native wildlife, is a must! ... then back at the farm to a relaxing sauna and outdoor hot tub. Just ask us!